£

10.00
Springfield Road (memoir)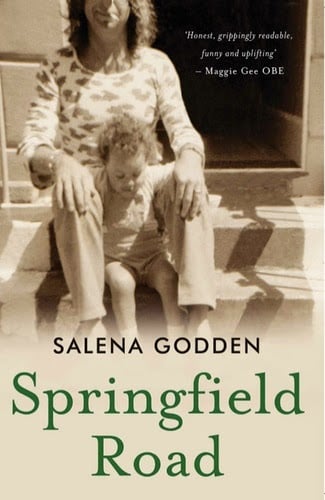 Springfield Road by Salena Godden
Original Paperback published by Unbound Books
ISBN 978-1-78352-055-8
Springfield Road is a journey into childhood in the late seventies and early eighties, a time of halfpenny sweets, fish and chips in newspaper, scrumping apples and foraging for conkers.
Set in the dawn of Thatcher's Britain, it's a salute to every curly-top, scabby knee'd, mixed-up, half-crazy kid with NHS glasses, free school dinners and hand-me- downs, as remembered by poet Salena Godden, the daughter of an Irish jazz musician and a Jamaican go-go dancer
'Honest, grippingly readable, funny and uplifting' Author Maggie Gee, OBE
 
'Her writing is urgent and detailed, colourful and clamorous. Like all love stories, her memoir is intense, intimate...' Iain Finlayson, The Times
"Throughout, Godden writes about a past that is at once deeply personal yet also belongs to the everyman figure; her descriptions of childhood are simultaneously timeless and yet rooted in a particular period of British history…"  Debjani Biswas-Hawkes, The Literateur
 
As long ago as 2006, it was suggested to Salena Godden that she should write a memoir. The details of Salena's early life – a mixed-race child brought up in England in the seventies and eighties, whose Irish jazz-musician father leaves home when she is three and kills himself when she is nine, her Jamaican mother's second marriage to a violent stepfather – had all the potential for the making of a 'misery memoir', the kind that were riding high in the bestseller lists at the time.


But Salena Godden is incapable of that kind of misery.  Joy and humour and love and tenderness just kept breaking through, and what resulted was Springfield Road – one of the most life-enhancing memoirs you will ever read.  Make no mistake, Salena does not shy away from the painful and the difficult episodes of her life, but she just can't help herself also celebrating the ridiculous, the beautiful, the thousands of tiny unremembered acts of kindness and of love that are at once both personal and universal.


In July 2014 Salena published Fishing In The Aftermath / Poems 1994-2014, marking twenty years of poetry and performance (Burning Eye Books). Her illustrious career as a spoken word performer is legendary. In Springfield Road there is a glimpse of what drove her to become the brilliantly, exuberantly self-made artist that she is.

As well as her writing and performing, Salena works with award-winning radio producer Rebecca Maxted. Their latest documentary 'Try A Little Tenderness – The Lost Legacy of Little Miss Cornshucks' was aired on BBC Radio 4 and BBC World Service to great acclaim. Salena has appeared regularly on BBC as a guest poet on various shows including: Woman's Hour,  From Fact To Fiction, The Verb, Saturday Live and Loose Ends. She is currently poet-in-residence for Click Radio on BBC World Service. Salena read an extract from Springfield Road and contributed a poem to the much-lauded documentary 'The History of the N-Word' also broadcast on BBC Radio 4. 
Salena Godden's has been reading at literary festivals up and down the UK consistently, her tours have included: Latitude, Port Eliot, The Green Gathering, Tongue Fu, Udderbelly, The Southbank, The London Short Story Festival, Stoke Newington Literary Festival, Wilderness, How The Light Gets In and Hay-On-Wye, Festival No.6, Talking Liberties at The British Library, Edinburgh International Book Festival, Also Festival, Poetry Re-Incarnation at The Roundhouse and The Dylan Weekend in Laugharne. 
Springfield Road was the For Books Sake first Book Club choice. Springfield Road also featured on NPR's All Things Considered with Arun Rath in the states. You'll find further work, festival appearances and radio work on the 'Waiting For Godden' blog and website www.salenagodden.co.uk
E-book and AudioBook available from www.unbound.co.uk
More UK press and reviews:
   
"Salena Godden follows up her recent poetry anthology with a lyrical and witty memoir painting a portrait of the artist as a young girl. Springfield Road tells the wide-eyed tale of Godden's childhood as the daughter of a jazz musician and a go-go dancer set against the lovingly rendered backdrop of 1970s Hastings.  Springfield Road's prose wavers effortlessly throughout, from tender poignancy to raw, gritty realism and this lovely book serves to remind us that however much the world has changed in the last forty years, in many ways it is still exactly the same."  Lee Bullman, Loud and Quiet Magazine
 "Salena Godden is an absolute master of, knowing your assumptions, playing to them, and then flipping them completely." Laura Taylor, Write Out Loud 
''Salena Godden is a powerhouse.'  Nicole Capo, Sabotage Reviews